"Notes of a Jewish Convert to the LDS Church"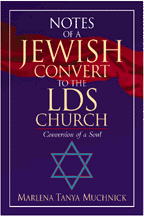 Several years ago I experienced a spiritual miracle. I had studied a long time to know finally, once and for all, what God had planned for me in this life.
Having been taught by missionaries from The Church of Jesus Christ of Latter-day Saints, I into deep study with fasting and prayer over many months to know the truth.
I was born and raised a Jew and I was loyal to those teachings. One day I stepped outside my room and was given an angelic witness that this Church is truly of God, restored again in these days, never to be taken from the earth. Truly it was the most wonderful experience possible. I knew all at once that I was no longer only a Jew but that I had become a witness of Christ.
I have told my story personally in some 50 firesides and workshops and continue to be available. I believe it to be a missionary effort to convince the Jewish people that Jesus is the Christ and that the words of the ancient prophets predicted his birth, death and resurrection to the Jews, who would not hearken to their words.
For an autographed copy: Contact me marlena@jewishconvert-lds.com or read it on Kindle! or read it on Kindle!
What people are saying about Notes of a Jewish Convert to the LDS Church
"May the Lord bless you in all your righteous endeavors." ....Joseph B. Wirthlin, Quorum of the Twelve Apostles
"I love your book. You have a very important message to tell." " ....G. Conger, temple president.
"I cannot tell you how much I appreciate and value your book "Notes of a Jewish Convert…" Your story is one of the most inspiring and compelling that I've ever heard!" .... Desiree
"You, my dear, are indeed a Marvelous Work and a Wonder!" ....David Robins
"A truly moving account of the author's conversion from Judaism to the restored Gospel. Her story of inspiration and her amazing leap of faith should be read by every Mormon and every Jew!!" ....Jean Phelan
"I thoroughly enjoyed your books. May the Lord bless you in your writings and the sharing of your story." .... T. Graff
"Your books really made me see how blessed I am to be LDS and I felt the spirit when I read it. Thank you so much!" ....A. McKell
"I admire your enthusiasm, your conviction and most importantly your willingness to serve the Lord and spread the Gospel" ....Margaret D. Nadauld, Young Women General President
"Your book has deeply touched another person, my friend. She has found answers to some things that have been troubling her in her personal life. Your book seems to have been written specifically for some of us. I know that I was meant to find it and to learn from it." .... M. Mitchell
"I want to acknowledge receipt of your wonderful book. I read it immediately and was very impressed. Your book is bound to be a very powerful testimony to Jew and non-Jew alike, and I thank you again for my copy. I especially enjoyed reading the historical Jewish List of Appearances, and the Hebrew quotations… " ....B. Stockwell
"I just finished your book. I thought it was wonderful and inspirational. I'm a female Jewish convert as well and I'm married to a Jewish convert. I would love to meet you!" ....Amy