People of The Book (Am Ha Sefer Torah)

"WHEN YESOD THE ORTHODOX JEW first gazes upon the figure of a man earnestly praying in a garden bower; he sees only a dusty portrait of a misbegotten soul from biblical times in communion with God. But the strength and intensity of the stranger's countenance enthralls Yesod.
Then he learns the figure is that of Jesus (Yeshua) in the Garden of Gethsemane. After struggling with the shame and shock he recognizes a deep kinship with Jesus. While studying ancient Hebrew texts in his room, a holy visitation brings him testimony that Jesus is the Messiah of mankind. Yesod faces expulsion from family and synagogue. His situation is worsened when his fiancèe demands that he give up this competing love.

Torn between his commitment to the Jewish community, his dear family and deep love for Sophia, Yesod the Jew is faced with overwhelming decisions that force him to search his soul."
Page Preview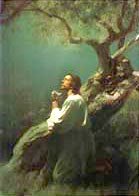 Yesod hesitated, then walked to the far end of the store. When he had found the picture he sought, he stood in silence before it. He felt almost relieved, and this feeling disturbed him. The light, the face, the figure against the thick, anchoring olive tree, they were already in his memory. Now he saw other things. His eyes first picked out the quality of the white filmy light from the misty darkness, touching the tree but laying like a mantle upon the thin shoulders of the praying man.
Then Yesod looked at the stranger's countnance and began to discern the strength in his features. He noticed the firm set of the mouth, the intense concentration of his eyes as they seemed to penetrate the light. He sensed a life force behind the total figure that was, even in repose, commanding. He has endured much, Yesod thought. Hunger and cold, even loneliness and loss. An Essene perhaps, a poor hungry traveler along Judean desert routes.
But this man did not seem lost to poverty. In his lifted face was a single-minded attention, earnest in every detail. Yesod's eyes moved to the supplicant's folded hands, they were the hands of a craftsman or an artist. Ah, he was an artist without work, a wandering soul, pledged to record the world's beauty in fineness of detail. Yesod smiled. This was a man sensitive to all of life, offering his thankfulness to the Almighty in prayer at day's first light, a common practice among the devout of Jewish men.
For an autographed copy: Contact me marlena@jewishconvert-lds.com or read it on Kindle!
What people say about it
"I loved your description of the painting. I'd never looked at the painting like that. The characterization is excellent. The story line pulled me right into the book, deep into the character. You brought Yesod alive; he thinks and feels as a real person… I could feel his deep love of the Jew praying, and his conflicts. I could identify with Yesod's quest for spiritual truth." - Jerry, assistant bookstore manager and author
"Well conceived, beautifully crafted, and a great read. The window into a Jew's religious life is well worth the price of this novel." D. Robins, Int'l MGA Journal
"From cover to cover, riveting. Muchnick skillfully, artfully draws the reader into the heart and soul of one Jewish man's experience as he discovers his Messiah. " G. Cottrell
"The sweet simplicity of this book reveals the sweet simplicity of the gospel of Jesus Christ. This easy flowing novel should be read by Jews and Christians alike. " E. Bakow
"Finally, a Jewish story told with warm tenderness of heart about an orthodox Jew's journey to know his Messiah." Mitch Molling, past president of B'nai Shalom in Salt Lake City
"Marlena Tanya Muchnick's novel, People of The Book, is about Yesod, an Orthodox Jew... this decision to change his life and religious allegiance brings uproar and confusion in every aspect of his life, including his relationship with the woman he loves. People of The Book is recomended as a well written, profoundly thoughtful, and soul-searching story." Midwest Book Review (www.midwestbookreview.com, Small Press Bookwatch, Fiction).
"Most recently read People of the Book. It certainly is well written. I have always been interested in glimpses into the Jewish culture. She needs to keep writing." Dr Roy Baker, Superintendent of Schools
"This book is important - to help us LDS non-Jews understand Jews - LDS or not. We need to understand this, if we are going to invite Jewish investigators into the restored gospel and make them welcome in our circles. It does that while giving us an inspiring captivating spiritual story and a bit of a romance. When I read it the second time, I realized it was teaching me about the Jewish thoughts, feelings and conversations of the hero in a wonderful way. I understood better his worship, his banter with friends, the romantic hopes of his engagement, and what a devout Jew feels about Christ." D. Baker
"Ms. Muchnick has crafted an enchanting, penetrating and incisive portrait of one man's struggle with his secularism against undeniable spiritual revelation. I read this book with wonder. I recommend it for the stage. People of The Book is a lesson in love!" ...M. Mafi.